The Crit Lab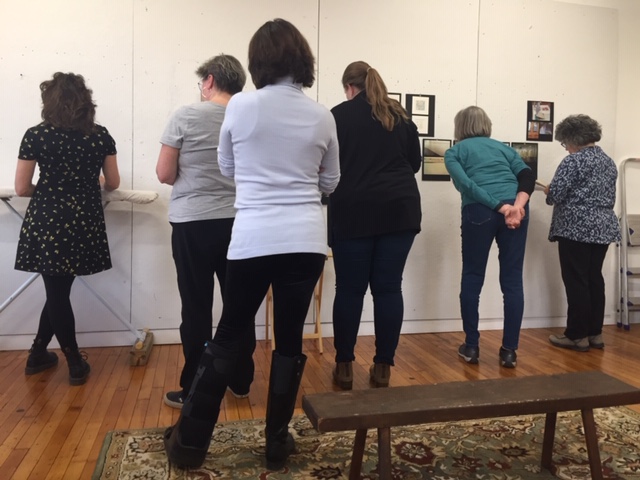 For more information about joining a session-
email
Patricia.
To receieve occasional updates - j
oin
our mailing list.
2020 Winter Spring Dates!
Port Chester:
A: Monday:
February 3, March 9, April 6, May 4, June 8
B: Tuesday:
February 11, March 17, April 14, May 12, June 16
C: Wednesday:
February 12, March 18, April 15, May 13, June 17
D: Thursday:
February 13, March 19, April 16, May 14, June 18
PC Alternate:
(in case of only 2 Boston groups)
Thursday: February 6, March 12, April 9, May 7, June 11
Boston
F. Tuesday:
February 4, March 10, April 7, May 5, June 9 (Somerville)
G. Wednesday: February 5, March 11, April 8, May 6, June 10 (Somerville)
H. Thursday: February 6, March 12, April 9, May 7, June 11 (Brookline)

Rhode Island
I. Saturday: February 15, March 7, April 11, May 9, June 13.

NOTE: For Boston and Port Chester please choose up to 3-4 Sessions and list choices in order of preference in text box. While I do my best to accomodate I cannot guaruntee first choice. Groups are configured for dates and artistic
dynamic. Dates may change depending on participant numbers and other circumstances. Scroll down for registration form.
Cost for Crit Lab Session is $500. There are 5 meetings per session.
Returning artists have first choice of session.Spaces fill up quickly- if sessions are full you will be placed on a wait-list.
You can now pay using PayPal! Pay at link below.
Note
: There is a $15 fee for paypal submissions to cover paypal costs.
To avoid fee send a check for $500 to:
The Crit Lab LLC
Att: Paticia Miranda
6 North Pearl Street, Suite 404E
Port Chester, NY 10573
The Crit Lab Travels!
Create a Crit Lab in your community! If you have a space large enough to accommodate a group of 7 people and wallspace to hang work- we can set up a group. I work hard to keep costs reasonable. Groups beyond Port Chester require 7 people to run. Additional costs may incur for sessions outside MAPSpace - for travel, lodging and space, if less than 7 participants.
Private Consultation, Critique, Studio Visits, Professional Biz Assistance.
I am available for private studio visits, critique, and professional assistance with writing artist statements, grants, portfolio review and more. Sessions can be arranged by appointment in-person or via google hangouts. Sessions can be single or booked as a concentrated group.
Email
to talk about the possibltities!