The Crit Lab Fall 2021:
Online, In-Person, Hybrid
We are excited to soon be together once again in a physical space - with one another and with the artwork. We have also been inspired by how the digital space has no geographic limits, the new ways in which we can share from our private spaces, and the unique intimacy of meeting in a space without physical bodies. As we move ahead we consider the variables, and alongside the environmental concerns of travel, craft new ways of working, making, reflecting. The Crit Lab community has grown into a powerful, connected, intimate force of artists. Join us as we invent new ways to share, to make, to talk about art.

Click for Fall Application Form
Scroll down for Payment info.
Returning Labbers have first priority for session space.
Visit the about page for details about the Labs.
One of the unique aspects of design of The Crit Lab from its founding in 2013 is the curation of the groups by director Patricia Miranda. Patricia carefully goes through all the artist applications to organize groups that will create dynamic and productive discussion. Therefore your application notes your available days only. You will be notified about which groups you are assigned.
The Crit Lab Fellowship Fall 2021!
Fellowship includes full tuition for one Crit Lab session. Visit the Fellowship page to learn more and to meet our first fellow Lauren Levine. Deadline August 10.
The application deadline has passed.
The Crit Lab offers different types of Labs:
All Labs meet for 5 monthly meetings; follow and maintain the same rigorous pedagogy and discussion; and focus on developing criticality around the work. Labs meet artists where they are, and develop strategies for a sustainable and individual studio practice.
Main Labs focus on monthly meetings, on developing critical language and skills in analyzing our own work and the work of others. Main Labs are flexible and open to different levels of engagement, while always maintaining the rigorous pedagogy and discourse the Crit Lab is known for.
NxtLvl Labs include the same structure as Main, with one additional private 20 minute meeting to discuss studio plan, goals, artist family, and possible personalized reading list. NxtLvl require a higher commitment; artists agree to a dedicated focus on studio work for the term; build artist families, create studio plans, develop targeted bibliography (if wanted). Individual elements are optional, however consistent commitment to studio work and the group is expected. Prior participation in a Crit Lab is required for NxtLvl (exceptions possible, contact us for info).
Note: Labs are curated for productive, dynamic, diverse discussion and work. Registration asks for day preference; while your input is always seriously considered we cannot guarantee first choice. Waitlists for full sessions are held until sessions start. Each session has max 7 artists. NxtLvl Labs are organized by application and and availability.
Join our mailing list for updates on future sessions, AltMFA, Residency, and other events.
Visit the artist pages to see what this amazing community of artists are up to.

Crit Lab Faculty are available for private critique. Check out the faculty page.

The Crit Lab is an artist-run self-funded organization. We are committed to to keeping program costs for artists as low as possible, while paying a fair wage to our visiting artists and faculty. We offer payment plans and are happy to chat with all artists about ways to join The Lab.
Contact us for more information at: info@thecritlab.com
There are no refunds for missed meetings. This assures commitment to the process, builds continuity, confidence, and integrity between members, and protects the nature of the relationships built in meetings. While we understand that life happens, we ask that everyone do their best to clear their schedules for all dates. Full refunds minus a $50 administrative fee are available up to 7 days before the session starts. Due to the impact on the curation and small number of artists in each group, cancelations within 7 days incurs a $100 administrative fee.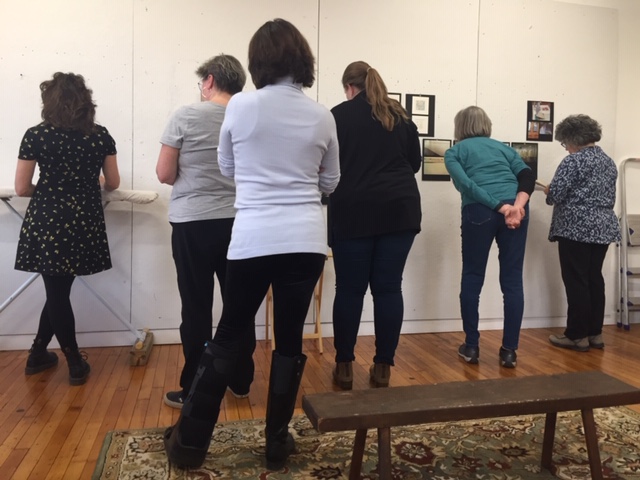 Payment Options:
Pay via PayPal below. Note: There is an additional fee for PayPal.
Pay via Venmo to @Patricia-Miranda-23
Mail checks to:
The Crit Lab LLC
6 North Pearl Street, 404E
Port Chester, NY 10573
Contact us for more info.